First-time Credentialing
First-time Credentialing
At least one business owner must complete the New Business Metrc Training to qualify to receive credentials and become a Metrc Administrator for the facility or facilities. After you complete training, you must send an email to [email protected] requesting your login credentials. The email should contain the following:
Subject Line: "Requesting MA Credentials"
In the body of the email, please include:
Your full name
Your State IIN/badge number
Your business License Number
The name of your business and DBA if applicable
The best contract number at which you can be reached
The email address where you'd like your "Welcome to Metrc" email to be sent
Metrc will verify credentials and training information and credential the Key Administrator within 72 hours unless the request arrives on a Friday. Then the request will be returned on Monday.
Once information has been vetted, a "Welcome to Metrc" email will be sent to the applicant.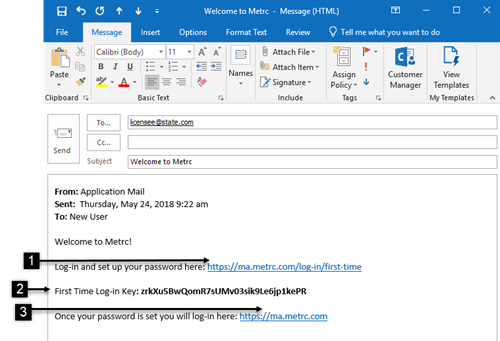 You will receive a welcome to Metrc email that will give you your Login link and temporary password to be able to access Metrc and set up your account. The First-time login Key is good for 24 hours. You must log in within 24 hours!
Item 1: Login Link
https://ma.metrc.com/log-in/first-time  
This link will take you to the first-time login page where you can use your key and temporary password to log in. 
Item 2: First-time Login Key
This First-time login key can only be used once and within 24 hours of when the "Welcome to Metrc" email is sent. 
Item 3: Site Link
Use this link to create a bookmark on your browser and to navigate to the main log-in screen.
---
---